The Future of ECommerce: How Narola Infotech Helps Businesses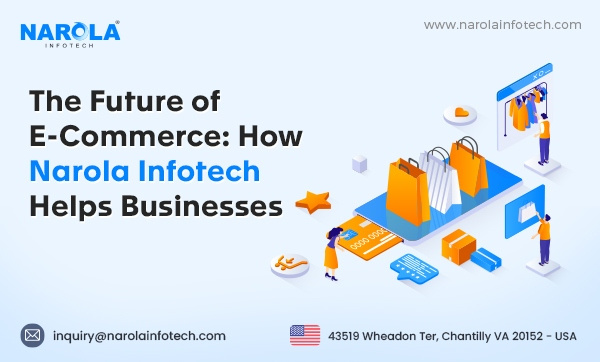 The future of e-commerce is bright. The global e-commerce market is expected to reach $5.58 trillion by 2027, and there are a number of trends that are driving this growth. These trends include:
The rise of mobile commerce: More and more people are shopping online using their mobile devices. In 2022, mobile commerce is expected to account for over 50% of all ecommerce sales.
The growth of social commerce: Social media platforms are becoming increasingly important for e-commerce businesses. Businesses can use social media to reach new customers, promote their products, and drive sales.
The adoption of new technologies: New technologies such as augmented reality (AR) and virtual reality (VR) are starting to have a major impact on ecommerce. These technologies can be used to create more immersive and interactive shopping experiences.
The increasing demand for personalization: Customers are increasingly demanding personalized shopping experiences. Businesses can use data analytics and machine learning to personalize the shopping experience for each individual customer.
Narola Infotech is a leading ecommerce development company that can help businesses take advantage of these trends and grow their e-commerce business. They have a team of experienced developers who can build you a custom e-commerce website that is mobile-friendly, secure, and scalable. Narola also offers a wide range of ecommerce services, including Delivery Solutions, payment processing, eCommerce Mobile Apps, eCommerce Web Application, Supply Chain Management Software, Warehouse & Inventory Management and many more.
Some of the Ways that Narola Infotech Can Help Businesses in the Future of Ecommerce
Build custom e-commerce websites that are mobile-friendly and secure. Narola InfoTech's ecommerce websites are designed to be compatible with all major mobile devices, and they use the latest security technologies to protect your customers' data.
Provide payment processing solutions that are secure and convenient. They works with a variety of payment processors to offer businesses a variety of payment options, including credit cards, debit cards, PayPal, Apple Pay and many more.
Help businesses market their products and services online and provide support for businesses as they grow their e-commerce business. They are committed to providing excellent customer support to businesses of all sizes.
Here are Some Additional Benefits of Working with Narola Infotech
· They are up-to-date on the latest ecommerce trends and technologies.
· They have a proven track record of success.
· They offer a flexible and transparent pricing structure.
· They are committed to providing excellent customer service.
If you are looking for a partner to build a successful ecommerce platforms and grow your ecommerce business, Narola Infotech is the right choice. Contact them today to learn more about how they can help you.